Last update: 2015-11-22


Tickets can be bought at the railway stations. In some towns there are also special agencies selling railway tickets. At bigger stations ticketing is computer-based, but in smaller stations tickets are issued manually.

Tickets for long distance trains can usually be bought 45 days in advance. However, for boarding at intermediate stations tickets sometimes can only be bought on the day of departure.

Uzbek railways offer an online reservation for tickets at http://www.uzrailpass.uz/main.cgi?lan=e&section=14. I haven't tried it yet, but if you have 1st hand experience with that service, it would be nice if you left a comment here or wrote me an e-mail to share this information.



The Afrosiab-highspeed train and other daytime express trains (e.g. 9/10 "Sharq", running between Tashkent and Samarkand) have comfortiable seats in different classes:

Afrosiab-trains: Economy, Business and VIP class.
Other daytime express trains: 1st and 2nd class.



Overnight-trains have up to four categories:

spalnyj vagon (SV) - sleeping car with 2-bed-compartments, 18 places per carriage
kupe (K) - sleeping car with 4-bed-compartments, 36 places per carriage
plazkartnyj (P) - open "dormitory-style" couchette car, 54 place per carriage
obshchyj (O) - same as plazkartnyj, but more people in one carriage, 81 places per carriage
SV and O might not be available on all trains. K and P are the default-categories, which are always available.
Ticket prices depend on the type of train and the category. The ticket price is the same for foreigners as for local people.
Payment is in local currency (UZS).
Current ticket prices (in UZS) can be found out
here
.
Fur currency conversion rates see
http://www.oanda.com/currency/converter/
/
Some fare example:
Tashkent - Samarkand by Afrosiab train:
Economy class: ~17 EUR
Business class: ~24 EUR
VIP class: ~34 EUR
Tashkent - Bukhara overnight train:
SV-class: ~45 EUR
Kupe-class: ~25 EUR
Plazkartnyj-class: ~17 EUR
Obshchyj-class: ~10 EUR
Tashkent - Urgench overnight train:
SV-class: ~75 EUR
Kupe-class: ~40 EUR
Plazkartnyj-class: ~27 EUR
Obshchyj-class: not available
Tickets of my trip in 2005:
Ticket Tashkent - Samarkand: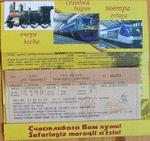 Ticket Samarkand - Bukhara: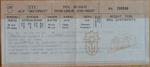 Ticket Bukhara - Navoj: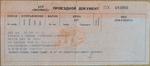 Ticket Navoj - Urgench: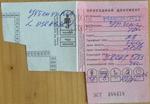 Ticket Turtgul - Atyrau (Kazakhstan):